Casa Gallina is a transdisciplinary project bringing together culture, community, and the environment. Through a process of social creativity, Casa Gallina is conceived as a laboratory of collective experiences and situations of resilience, ecological regeneration, and creativity. These processes are built by the community from the neighborhood of Santa María la Ribera in collaboration with professionals, artists, scientists, and agents from very different disciplines.
Casa Gallina has operated since 2013 in the territory of Santa María la Ribera, where it has been able to construct a complex web of solid relationships between diverse actors and local agents from the neighborhood. In 2019, Casa Gallina and its team proposed to consolidate their practice by expanding collaborations with other creative platforms with similar interests around the country to strengthen processes of exchange, dialogue, and learning, in which local experiences can transcend the specific territory to amplify their impact networks.
Casa Gallina considers the focus of its work to be reinforcing its leadership role in strengthening community networks related to reflection and action about issues of sustainability, ecological regeneration, conscious consumption, and creativity in everyday life. Through diverse formats of social interaction, dialogue, and learning exchanges, Casa Gallina is being constructed as a community facilitator of learning processes and social collaborations.
Rather than exalting products or results, Casa Gallina is interested in implementing and supporting experiences through medium to long term processes of connection and affective exchange that enable the construction of local networks and provide access to tools for sustainable change, social participation, and resilience.
Casa Gallina consistently carries out educational and creative programs for sociability and exchange led by high level national and international professionals (artists, horticulturalists, scientists, among others) involving creative experiences and processes about sustainability and ecology, in relation to the following thematic profiles:
Environment, sustainability, and ecological regeneration;
Community networks and mutual aid;
Food and consumption;
Resilience and everyday life;
Alternative forms of social and creativity.
Casa Gallina is the physical space, the headquarters where most of the project's programs are activated and take place. The house is a living place, a place of exchange, a niche of hospitality that incites individual transformation through collective experience.
The house is located in the north sector of Santa María la Ribera, a traditional colony in Mexico City that, due to its internal dynamics, is experienced as a neighborhood. Between 2013 and 2018, Casa Gallina operated as the physical space for the sixth version of inSite.
The context of the neighborhood of Santa María la Ribera includes pre-existing formats of exchange and coexistence among inhabitants of that territory, which enable the situations and experiences constructed in Casa Gallina to find a greater echo that exceeds the physical boundaries of the house.
The house is also understood as a laboratory of diverse formats of exchange in which alternative models of social inteeraction are experimented with. The house serves as a point of encounter and exchange for the changing communities that inhabit the territory and makes diverse tools available for the articulation of neighborhood community proposals in search of the common good.
Casa Gallina is located on Sabino, one of the neighborhood's busiest streets, where you can also find the local market La Dalia, several homeopathic pharmacies with a long history of rootedness in the locale, and the parish of the Holy Spirit.
People passing by do not find large signposts signaling Casa Gallina's presence, beyond the signage for the two spaces that have open access from the street: the Prestaduría vecinal and Salón Huev@. Inside the house, neighborhood residents can find the reading room with book collections related to themes such as gardening, cooking, urbanism, and children's literature, as well as work stations where the computer assistance and courses for elderly adults take place, and that can be used freely during the remaining opening hours. There is also the kitchen, an open space where healthy cooking courses, work sessions, and neighborhood encounters take place. At the back, the urban garden displays changing crops based on the seasons and the workshop themes.
The upper floor of Casa Gallina hosts more spaces for workshops and neighborhood meetings, as well as seed beds, a structure to house insects, and a small room called La Burbuja, where neighborhood residents can work or concentrate more peacefully than in the shared spaces.
The objective of all the areas of the house is to provide neighborhood residents with diverse configurations for work and encounter, which encourage collaboration and dialogue, with the goal of materializing projects for the common good. Only people who live, study, or work in Santa María la Ribera are given access to Casa Gallina, so that it remains a neighborhood setting and does not turn into a tourist stop for the many visitors to the colony.
Casa Gallina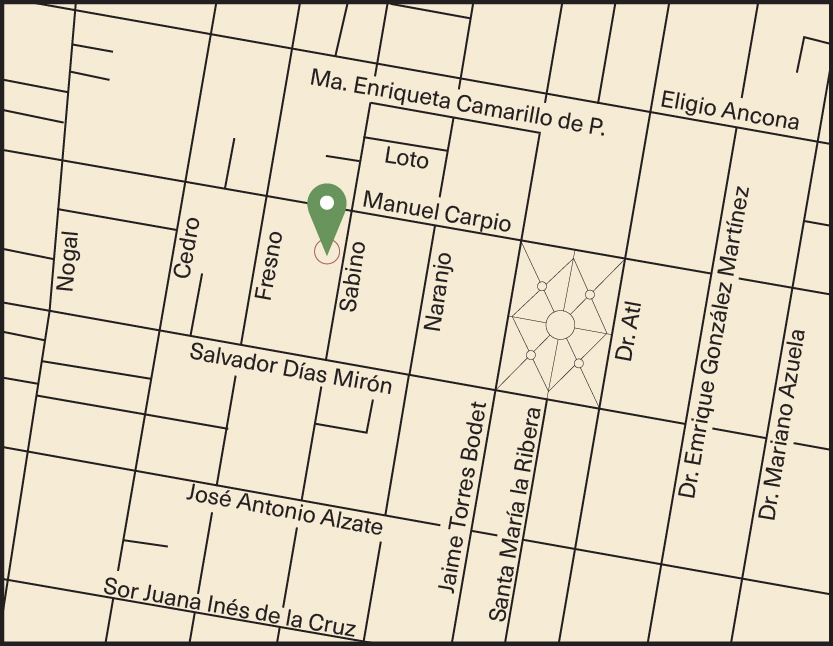 In Casa Gallina, we seek alliances with institutions, civil associations, collectives, and individuals for the joint development of transdisciplinary processes focused on themes of sustainability, ecological regeneration, conscious consumption, and creativity in everyday life.
We understand environmental regeneration and ecology as interests that need to be incorporated into daily life, to activate alternative forms of social interaction, consumption, and development, emanating from the creativity of the local community and its capacity for mutual aid.
We take the role of facilitators of methodological instruments that enable community collaboration, always taking into account the latent interests, opportunities, and specific problems of the population of Santa María la Ribera.
We are particularly interested in collaborating with community initiatives concerned with making environmental regeneration into an everyday practice through creative projects that utilize pedagogical, artistic, and social tools that motivate citizen actions at the local scale.
While our daily practice is focused on the neighborhood of Santa María la Ribera in Mexico City, we build working networks with similar projects anchored to other territories in the country that are interested in collaborating in the production of experiences, content, and strategies that can be activated in communities that are geographically separated.
Respecting the intimacy of the everyday is one of our ethical and methodological principles, therefore we are not interested in media coverage, nor in participating in projects that imply the mediatization of our processes.
We are open to sharing and exchanging experiences only with related initiatives and school and academic communities interested in the professional practice of community work.
Sustainable Habitat
This program activates different forms of exchange related to reflections and actions that connect participants with the environment in a sustainable way. Links between the city and nature are reinforced through diverse events, such as talks, film showings, dialogues, workshops and courses teaching sensibilization and technical training about issues related to ecological regeneration. In this framework, educational processes of planting, growing, and harvesting edible crops in community urban gardens, both in Casa Gallina as well as in locations in the locality such as schools, community spaces, among others, also take place.
Community Experiences
Activities that seek to enable encounters between neighbors to come together in processes where they can think, resolve, and act for the production of the common good. These experiences function as experiments in alternative forms of governance that break the social inertia of dependence on traditional forms of public or private management. These projects open up the latent spirit of a large number of members of the neighborhood and other communities who have similar energies to mutualize responsibilities in social matters and to tune the available necessary knowledges and administer the acquisition of knowledges that are missing, as well as mediating personal interests in the search of the collective good.
Shared Territories
Contents, strategies, and creative actions generated to be activated in parallel in Santa María la Ribera and in other specific territories, produced in collaboration with institutional and citizen platforms from diverse geographies, that share similar notions in relation to culture, the community, and the environment. With the goal of delocating focalized efforts, so that diverse communities can connect their knowledges, narratives, and experiences that make it possible to imagine, preserve, and adapt models of coexistence and resistance that involve environmental empathy and care of the other in everyday life.
Everyday Life
Intergenerational neighborhood encounters and workshops in which participants can familiarize themselves with alternative forms of resolving domestic necessities (cleaning, maintenance, repair, access to technologies) and interact with their neighbors. This not only includes technological innovations and sustainable variants of well-known products, but also techniques and knowledges that were popular at one time, but that have fallen into disuse due to the new dynamics of the disposable, of fast fashion, and the rise of products that are toxic to the environment. Likewise, these include dynamics of dialogue and interpersonal care that propose ways of organizing and working together with one's closest neighbors to solve shared domestic problems.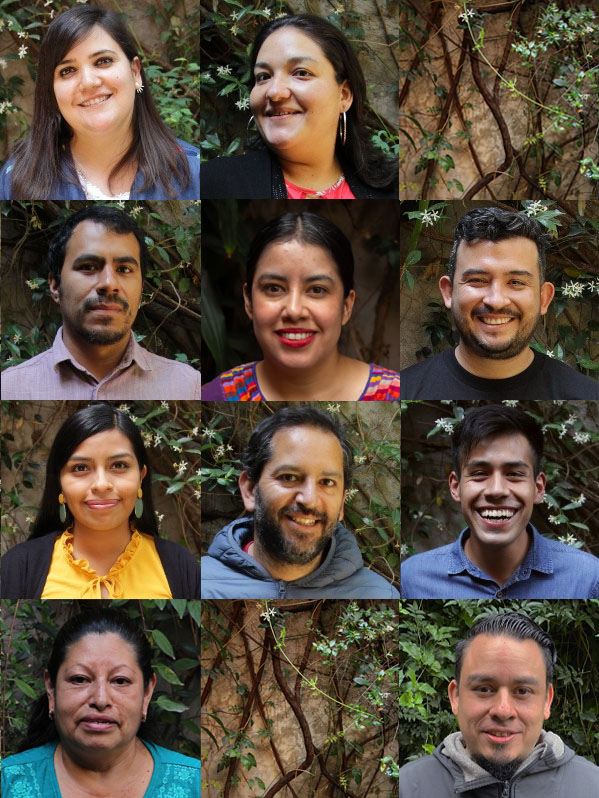 Team
Susana Pineda
Administration
Mariana Malinalli Camarena
Community Linkage and Strategic Alliances
David Hernández
Educational program and external alliances
Rodrigo Simancas
Educational program and local alliances
Mariano Arribas
Production
Gabriela Cruz
Graphic design
Luis Gómez
Registration, diffusion and digital platforms
Edwin Llerena
Janitorial Services and Operational Support
Leticia Rocha
Janitorial Services and Operational Support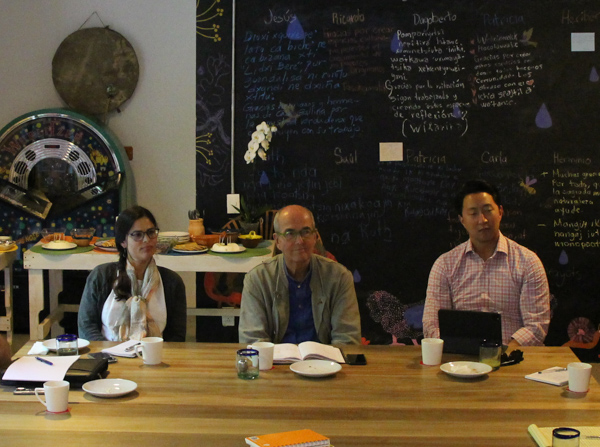 Board of Directors
Aimée Labarrère de Servitje
President
Founding Patrons
Aimée Labarrère de Servitje
Casa Gallina was founded as a not-for-profit civil association and has the authorization of the Secretariat of the Treasury to receive tax-deductible donations. The Board of Directors responsible for Casa Gallina invests an important part of the project's operating finances, however the search for support and allies for the development and implementation of the programs remains key to the project.
Casa Gallina is thankful for the support of its Founding Patrons:
Hans Schoepflin
Panta Rhea Fund
Aimée Labarrère de Servitje
Casa Gallina is thankful for the support of the following institutions that have directly contributed to the development of programs in 2021:
SERVAX BLEU through EFIARTES (Estímulo fiscal del artículo 190 de la LISR)
Casa Gallina is thankful for the legal advisrory of:
Elias Calles Abogados
Graue Abogados
Cristian Valencia Riou
Alejandra González Silva