Casa Gallina is a transdisciplinary cultural project whose programming is focused on learnings and actions relating culture, community, and the environment. The project is located in Santa María la Ribera, a neighborhood of Mexico City, where it seeks to facilitate synergies inside the local communities.
Through its platforms, Casa Gallina seeks to promote, inoculate, encourage, and revitalize initiatives and proposals about resilience, the environment, creative models of associations, life styles of responsible consumption, as well as alternative models of social interaction. Casa Gallina also seeks to strengthen local community networks, as well as alliances with initiatives from other areas that share similar interests to establish processes of dialogue, work, and exchange.
Since 2019
COMMUNITY REACH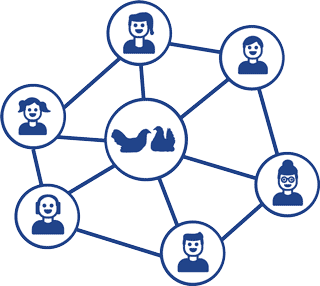 7,504
neighbors actively
participating in programs
1,144
online spectators
49,000
indirect beneficiaries
(number of inhabitants
of Santa María la Ribera)
&nbspfor the common good
Collaborations with


12 local schools

, supporting
the creative and meaningful education
of

2,500 children,

and
the work of

103 teachers
EXPANSION
IN TO OTHER
TERRITORIES
56 allies have expanded
Casa Gallina's work in
34 communities across
14 states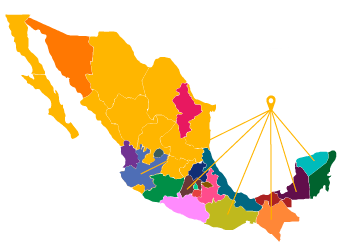 Reaching 13,432 people
in other territories

books published
and distributed
nationwide:
&nbsp&nbspWe Are Maize &nbsp&nbsp&nbsp&nbsp&nbsp&nbsp&nbsp&nbsp

Constellations:
A Manual of Tools
for Collective Mapping

Interconnections: Big
and Small Creatures
in the Same World

of the print run
consists of editions in 8
indigenous languages:
&nbsp&nbsp&nbsp&nbspZapoteco, Maya, Náhuatl, Wixárika,
&nbsp&nbsp&nbsp&nbspPurépecha, Ombeayiüts, Tsotsil
&nbsp&nbsp&nbsp&nbspand Tseltal

Allies

Related initiatives
Casa Gallina strives to build and strengthen networks of alliances with collectives, individuals, civil society organizations and public or private institutions with whom we share common interests. Collaborative processes are built in different formats and frameworks, which weave networks to share resources, strategies and methodologies.
These different alliances aim to enable processes and actions related to critical narratives, so as to trigger collective experiences on ecology, resilience, community liassons and creativity in daily life.
The collaborative network is built through the implementation of strategies and programs by Casa Gallina, which consistently enjoys the support of a wide range of allies. The following list presents our institutional alliances; the individual collaborators are covered under each of the strategies implemented. This list is constantly changing since it continues to grow longer.
Allies:
Stsebetik Bolom
Pixca Campesina
Museo Regional Mixteco - Tlayúa
Monapaküy, Organización Comunitaria
Masehual Siuamej Mosenyolchicuani
Ka Yok Planetario de Cancún
INIFAP
El Colectivo Xok k'iin
Didxaza Xtinuu
COPUDEVER
Comunidad Sinanché
Centro Cultural Antiguo Colegio Jesuita
CASA Centro de las artes de San Agustin ETLA
Cañada de los once pueblos
APISA A.C. (Asamblea de Pueblos Indígenas por la Soberanía Alimentaria)
Proyecto Santa María
Zutut´Ha
Fundación Alfredo Harp Helú Oaxaca, A.C.
Pronatura Sur A.C.
Alternare A.C.
Unión de Cooperativas Tosepan Titataniske
 Universidad Intercultural de Chiapas
Proyecto de Desarrollo Rural Integral Vicente Guerrero A.C.
Mujeres, Organización y Territorios MOOTS A.C.
El Maíz de Nuestra Tierra
Alianza Milpa
The Milpa Project
Dinastía Náhuatl
Yo'onik Comunidad de aprendizaje
Casa de cultura de Aculco
Escuela Primaria Plan de San Luis
Preescolar Kapilton Malintsi Tlamachtilistli
Escuela Secundaria Enedino Jiménez
El Colegio de la Frontera Sur (ECOSUR)
Servicios para una Educación Alternativa en Oaxaca A.C.
CESSDER - PRODES
Cine Too, El cine encantado de Guelatao
Primer Taller de Arte Contemporaneo Ko´oxtuukul, ko´oxdoom
Grupo de Estudios Ambientales
IXIM
Telesecundaria Tetsijtsilin
IAGO Instituto de Artes Gráficas de Oaxaca
Biblioteca Pública Municipal José F. Gomez
BS Biblioteca Infantil de Oaxaca
Miscelanea Cultural Yohuala
Enlace Comunicación y Capacitación A.C.
Proyecto Mixteca Sustentable A.C.
EECOS- INCIDE
Asociación Cultural Na Bolom, A.C.
Museo Cabañas
Kolijke
Estanquillo El 32
Fundación Jumex Arte Contemporáneo
Cooperativa de consumo La imposible
Asamblea de Defensores del Territorio Maya Múuch' Xíinbal
Museo de Geología
Fundación Tortilla de Maíz Mexicana
Calpulli Tecalco