Re-viewing territories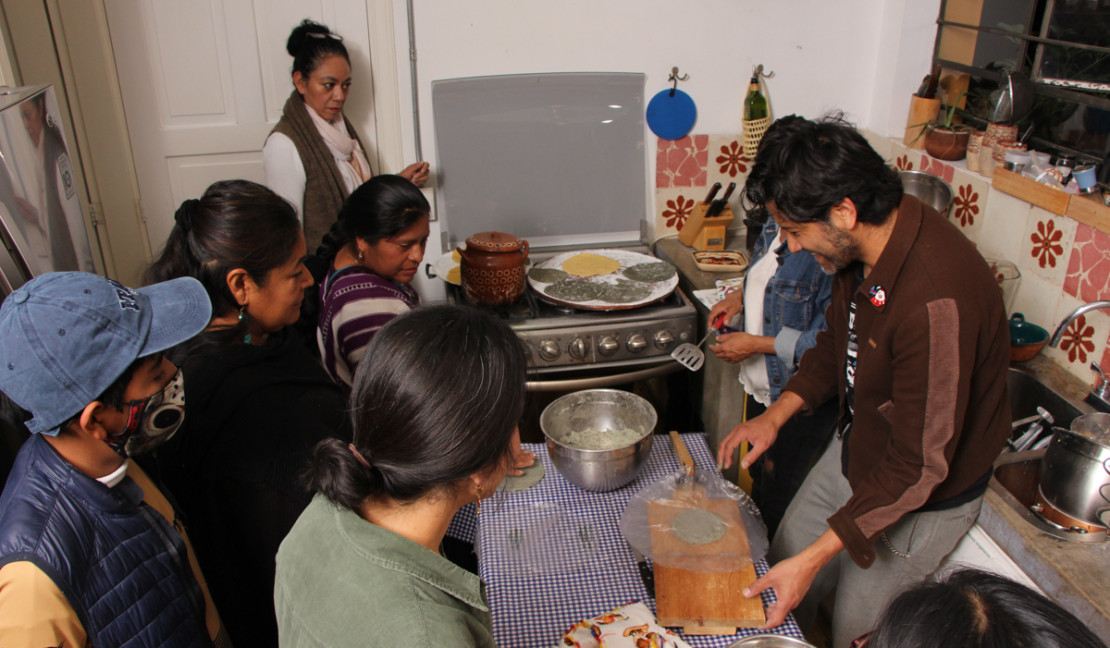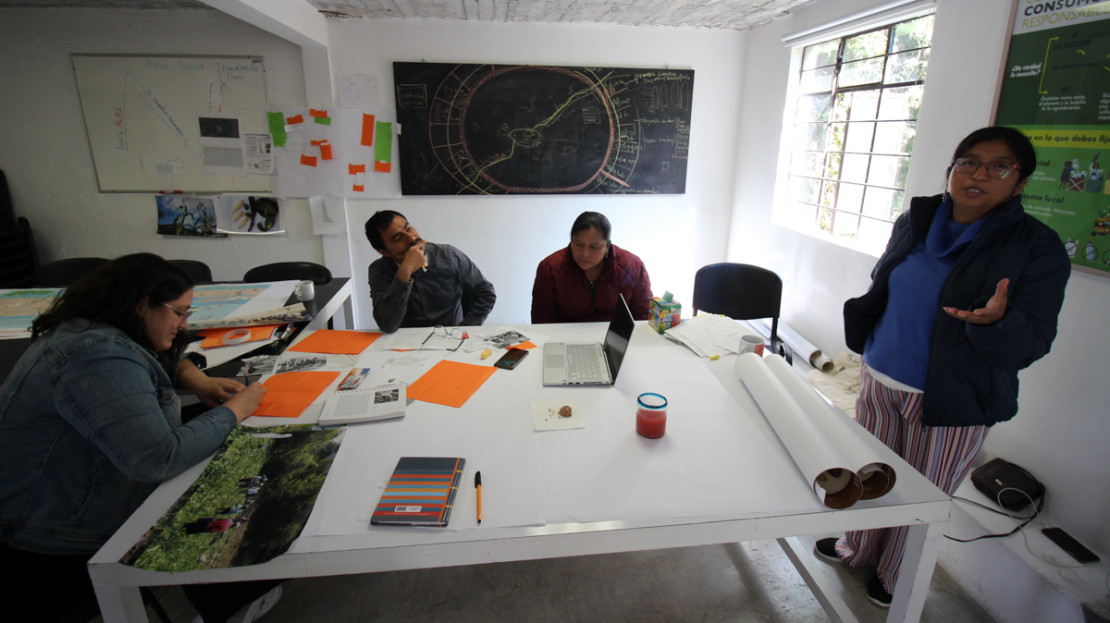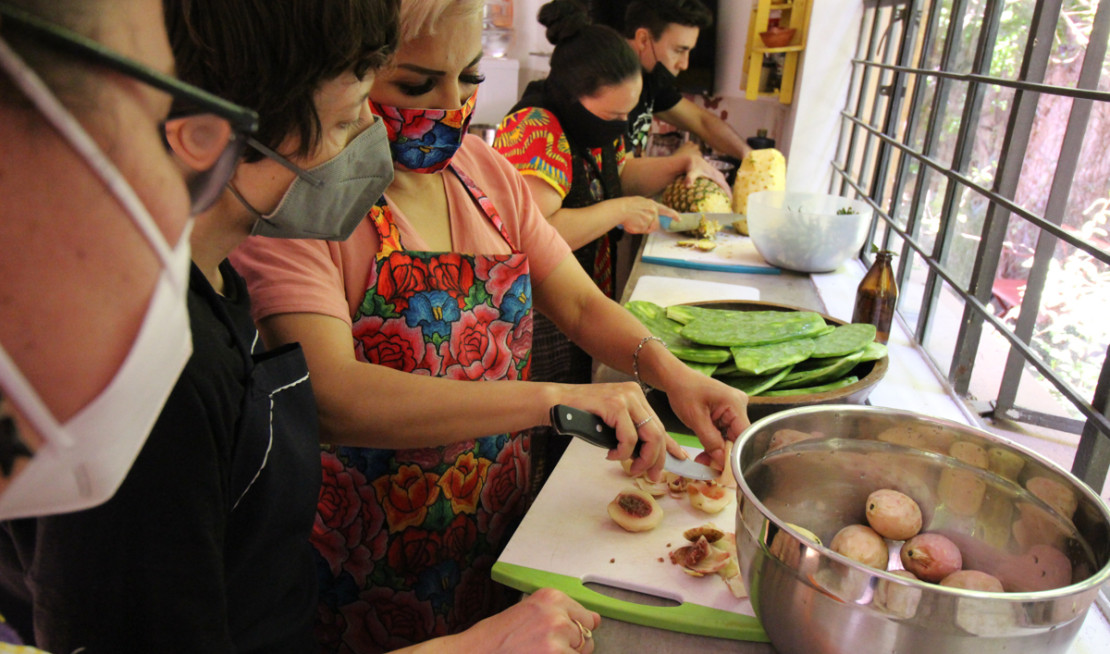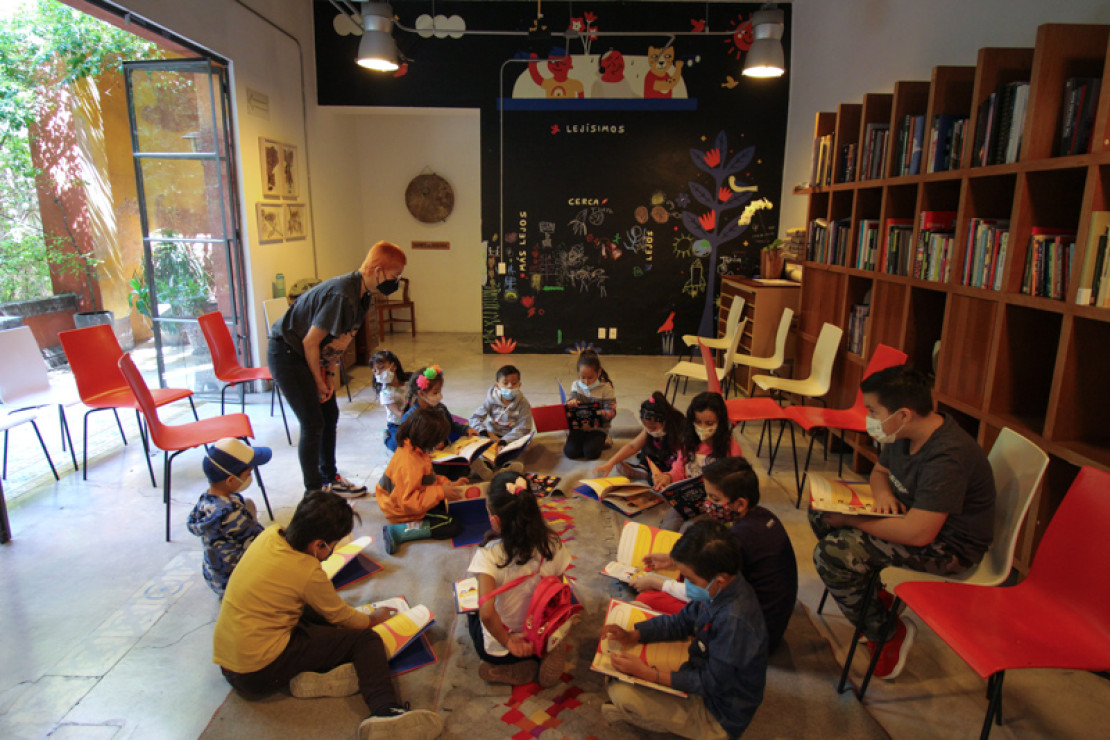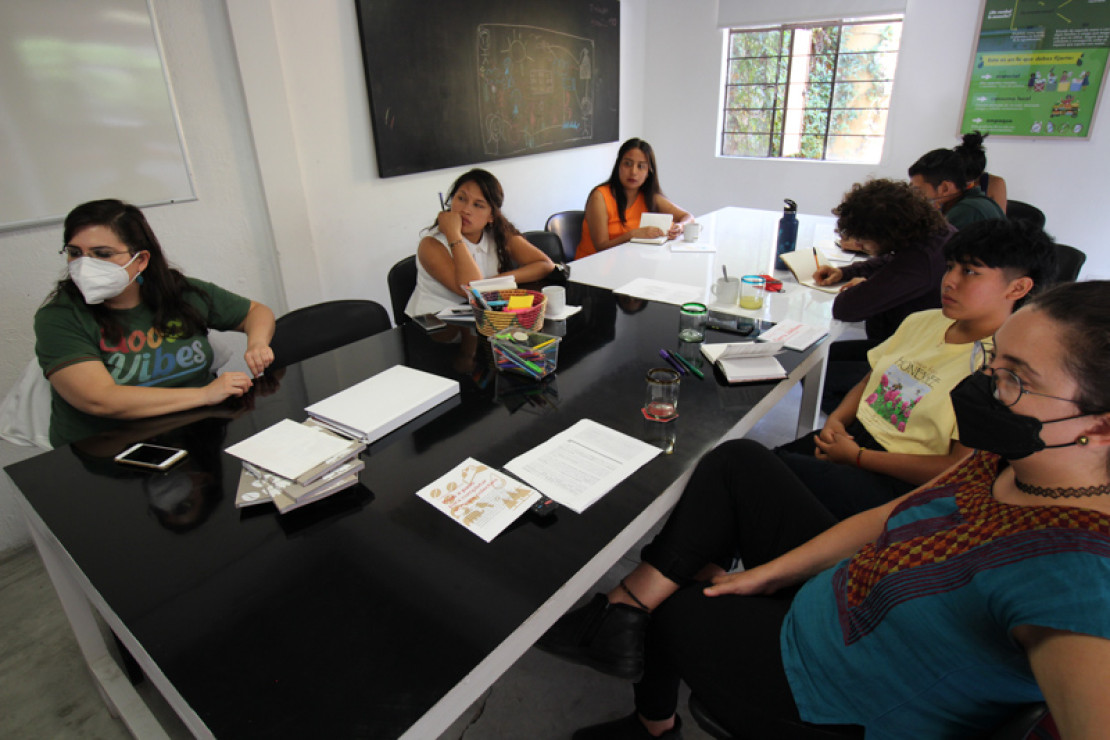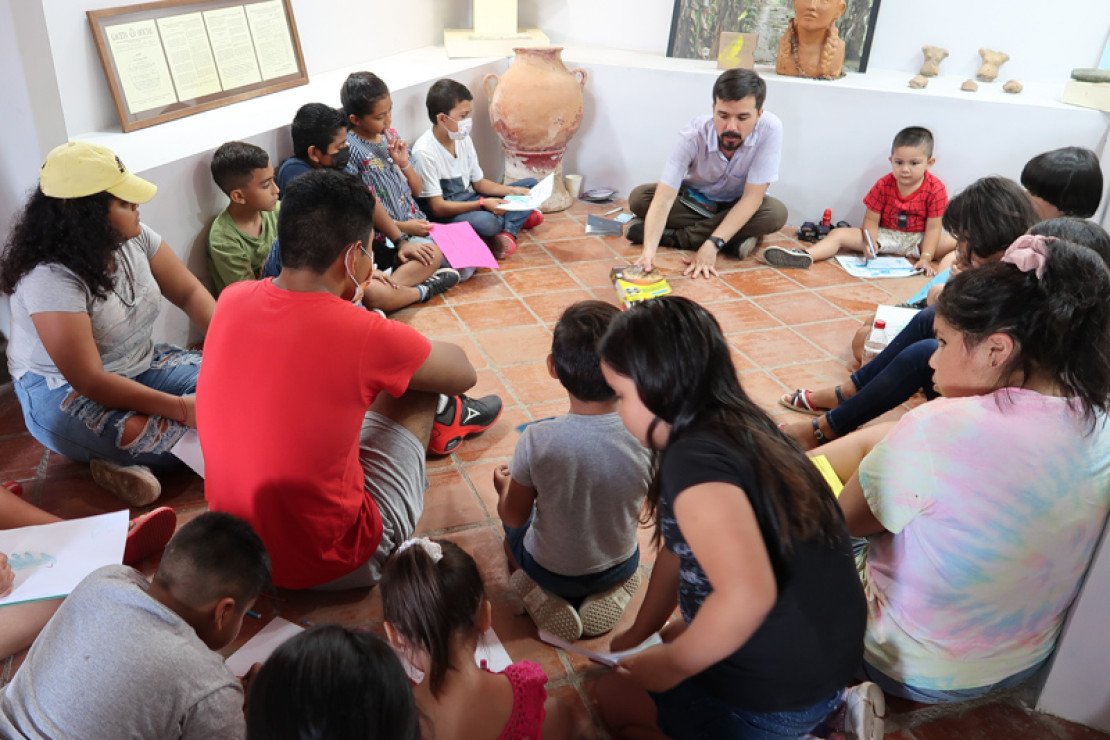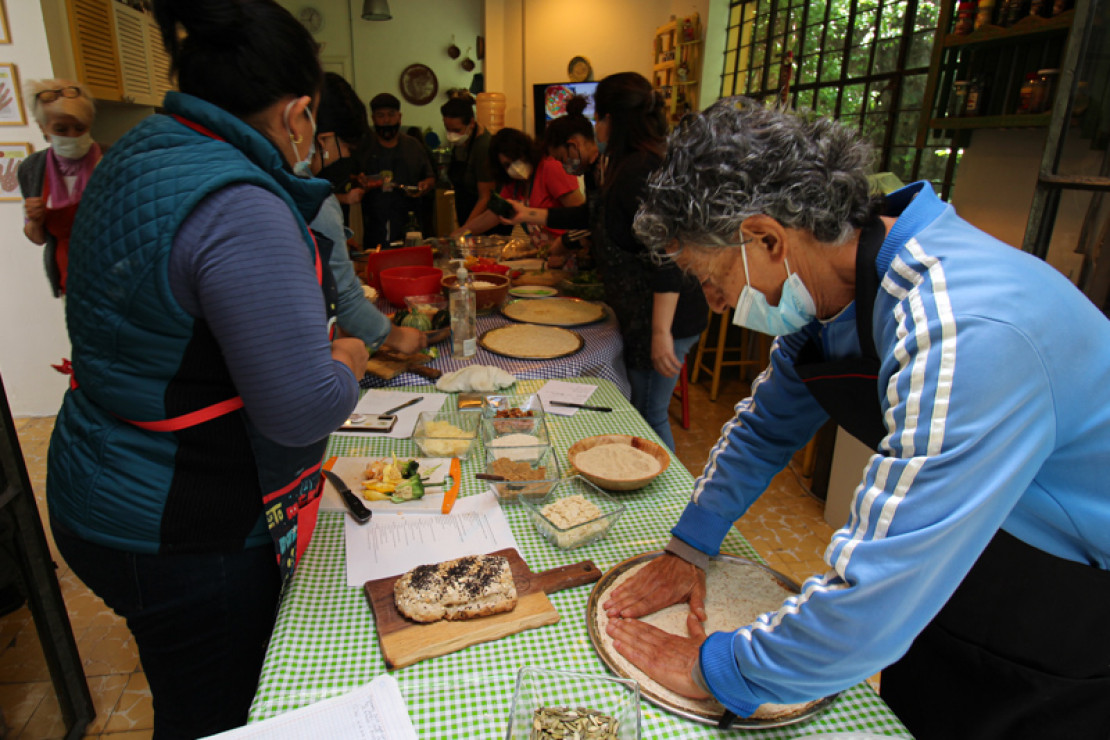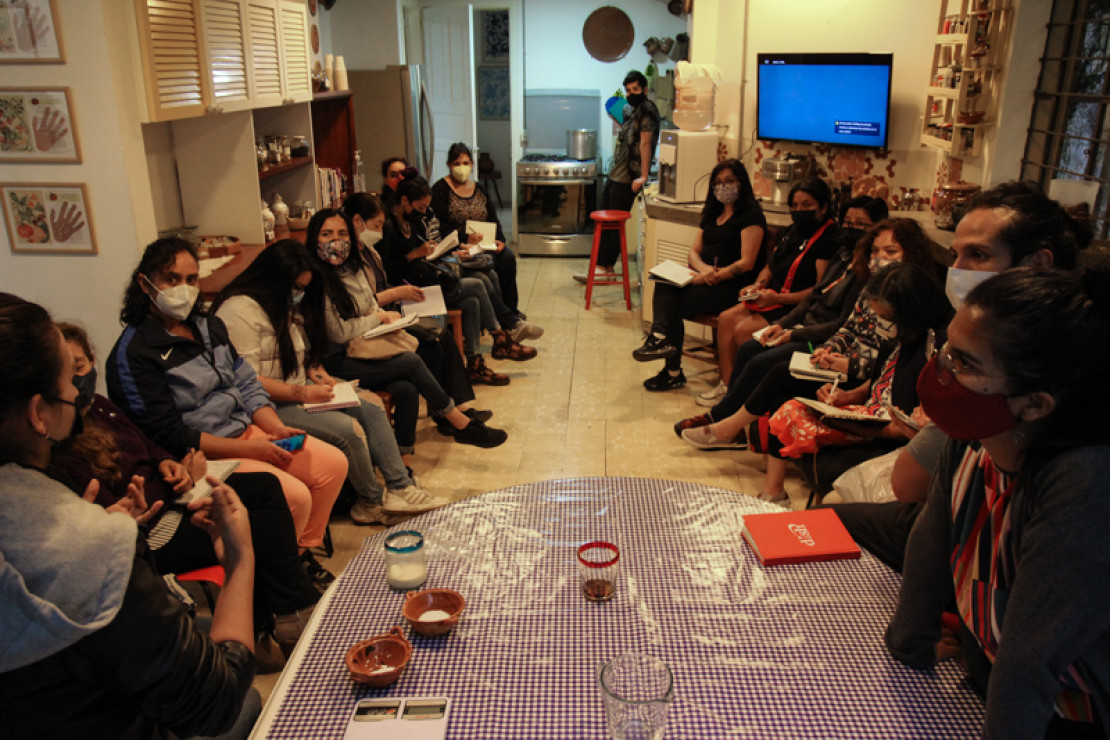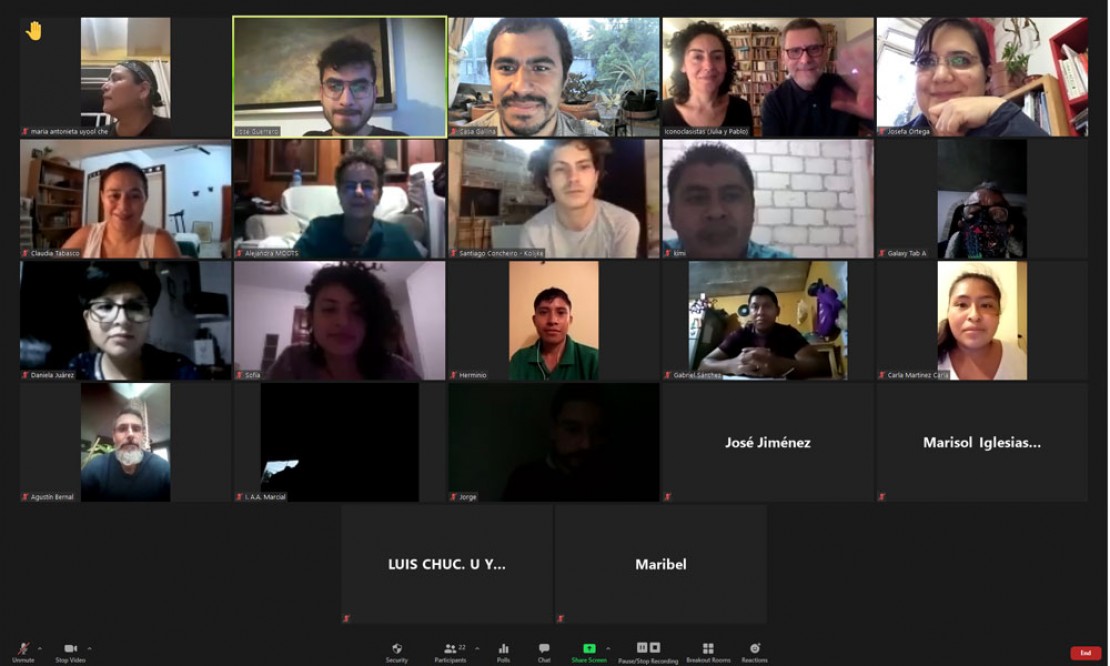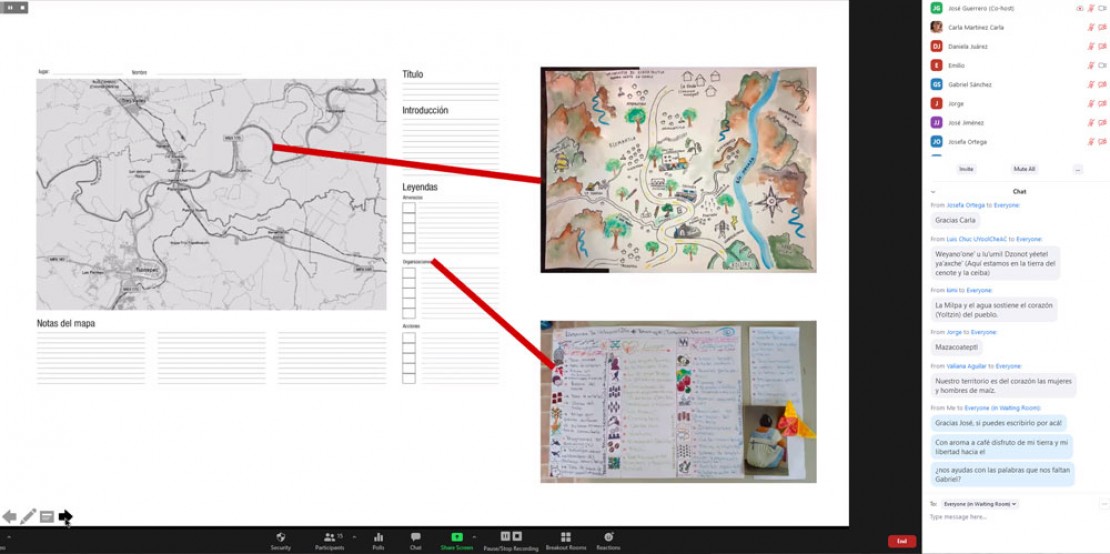 Since the first semester of 2021, Casa Gallina's program integrated a series of reflections and actions into its thematic strategies, which enables the rethinking of territories we inhabit, through re-learning their cultural and biological diversity.
The programs that comprise this strategy aim at fostering a link between various communities and the territories they call home, with approaches of exchange and recognition of local knowledge. Varied dialogue is furthered through different tools -such as collective mapping, tours, children's and cooking workshops- , in which each territory is reassessed based on the species that inhabit it, existing social interactions and the multiple relations between the ecosystems and the culture that characterize them. The strategy is built in alliance with organizations and community agents from various parts of the country.
Strategy implementation programs:
Flavors Shortening Distances
Date: December 7, 2022
Allies: REGMABI O.S.C. and Calpulli Tecalco A.C.
Hosts: Faustina Díaz, Irene Nich, Adrián Pérez and Angélica Palma
Participants: 12 owners of food businesses in Santa María la Ribera
Format: in-person
This program of encounters in the form of conversations and sampling dishes sought to interconnect life experiences, memories and sensibilities between urban and rural communities. Taking the community of cooks in the neighborhood of Santa María la Ribera itself as an original nucleus and our ally Calpulli Tecalco, we invited them to exchange knowledge with the REGMABI O.S.C network of guardians of maize and biodiversity, a group that includes professionals, farmers' children, men and women from different part of the state of Chiapas, with different cultures, who are all interested in preserving the diversity of the Tseltal, Tojolobal, Zoque and Mam maize fields and safeguard their legacies. This encounter included sharing a recipe of whipped chile, a dish offered to laborers at the start of the year´s first planting of maize, and there was a conversation on the relevance of culture and memory for the conservation of biodiversity and gastronomical knowledge.
Laboratory on Prototyping for a Story-Map of the Tzeltal Maize Field
Date: December 5 - 9, 2022
Coordinated by: Casa Gallina
Allies: Maricarmen Zapatero, REGMABI O.S.C.
Participants: Faustina Díaz, Irene Nich and Adrián Pérez
Format: in-person
As a result of the publication Milpa Corazón —a research project by REGMABI O.S.C.— members of that organization visited Casa Gallina to create an editorial prototype that helps graphically bring to life the most relevant parts of the k´altik (Tzeltal maize field) practiced in the community of Oxchuc, in the state of Chiapas. During the laboratory the team worked collaboratively to design the synthesis of the pieces of information to build the story-map while the graphic rendering of this information was done with the illustrator Maricarmen Zapatero. This project will continue during 2023 with long-distance work between Casa Gallina and REGMABI.
Conclusion of the program Flowers, Prickly Pears, Maguey Cactus, Larvae and Worms - Otomi Cuisine from the Hidalgo Desert
Date: October 29, 2022
Coordinators: Angélica Palma and Gina Quintanar
Participants: 25 inhabitants of Santa María la Ribera
Format: in-person
For the closure of this program, a group of neighbors prepared a traditional recipe for corn "gorditas" (a type of thick tortilla cooked with a filling) which are typically made for the Day of the Dead festivities in the Mezquital Valley. There was an open invitation for the community to attend this event for the projection of a short documentary on the Mendoza López family, farmers who produce prickly pears in that region; they work in a model of family business that includes traditional practices with knowledge passed down through the generations for their varied production of different types of prickly pear. The event included a discussion on the importance of family in inheriting forms of production, festivities and recipes.
Training Program on Environmental Education I Recreate the City
Date: September 2021 to May 2022 / October 2022
Facilitated by: Cecilia Pompa
Participants: 77 teachers from Milpa Alta and Santa María la Ribera, in Mexico City; Tlapa de Comonfort, state of Guerrero; Juchitán, state of Oaxaca; Hopelchen, state of Campeche; and Zihuateutla, state of Puebla.
Format: Virtual
A Training Program on Environmental Education for Teachers was created, based on the game I Recreate the City, in order to provide the necessary tools for teachers to delve into the concepts, abilities and values surrounding environmental knowledge. Six virtual sessions were held for each region, with the program´s final reach being 18 teachers from each of the six regions, who were able to complete the training course and created projects which will be included in a publication that will serve as a memory of said process.


Summer Course: Life In My Surroundings
Date: August 1–19, 2022
Facilitated by: Ketzali Arreola
Ally: El huerto de las niñas y los niños
Participants: 47 girls and boys from Santa María la Ribera
With a programme linked to Casa Gallina's publication Life In My Surroundings, this course fostered curiosity and the capacity to discover, observe and explore their surroundings through play. Girls and boys from Santa María la Ribera took part in different activities such as: creating a collective mural, visiting the Orchard for Girls and Boys, a cooking workshop, exercises on dialogue and listening to their surroundings, interventions on everyday objects, activities with elderly ladies and conversations with Roxanna Erdman, who wrote the book, and Juana Guerrero, who translated it into Mazatec.
Communal Shop: Livestock Month
August 2022
Coordinated by: Balbina Pérez
Facilitators and Guest Producers: Adán Caldiño from Quesería La Remigia, Nayeli Ortíz from Lácteos El Tapanco and Jesús Rojas from Granja Nido Real
Participants: 34 adults and 12 children from Santa María la Ribera
Balbina Pérez, neighbor and manager who participates in managing alternative markets in Mexico City, coordinated the participation of different dairy, meat and poultry producers and family cooperatives for the Communal Shop. In addition to selling, every guest proposed an activity to foster reflection on food security and the environmental reach of industrialization as opposed to ethical and responsible production of animal products.
Nayeli Ortiz hosted the workshop Cheese That Tastes of the Countryside: making artisanal Panela cheese; Adán Caldiño led the conversation Stories of Cheeses, Sheep, Ewes and Goats: animal husbandry in Mexico City; while Jesús Rojas headed the workshop for children Girl and Boy Caretakers: workshop to create chicken nests.
Communal Shop: Junk Food That Isn't Junk
July 30–August 6
Facilitators and Guests: Roberto Spano and Guillermo López from Centro Multidisciplinario Acahual
Participants: 35 residents of Santa María la Ribera
The Acahual Multidisciplinary Center invited different producers from the Aldeas Verde market, located in Huehuetoca, state of Mexico, to sell their products in the Communal Shop. At the same time, Roberto Spano and Guillermo López shared a programme of workshops on how to produce a couple of popular foods in the urban diet: bread and pizza.
In the workshop Homemade Bread, That 's What I Want: a workshop on sourdough bread and Reimagining Pizza: a cooking workshop, participants could learn the origins of, and bonds Mediterranean cultures have with pizza and bread. They also learned how to make them safe and nutritious through the use of flours, bran, grain husk and vegetables in the sourdough fermentation process.
Exchange Week With Centro Comunitario Productivo de Ocomantla (CCPO) and Casa Gallina
Date: July 4–8, 2022
Allies: ADVC Kolijke and Biblioteca Pública Sor Juana Inés de la Cruz
Participants: 5 promoters from CCPO
Format: in-person
In order to establish dialogues and exchange practices on educational and community work with different agents throughout the country that Casa Gallina has forged close ties with, we welcomed 5 promoters from CCPO. They participated in many activities during that period: they led a workshop on environmental education in the Sor Juana Inés de la Cruz Public Library, they had a session to exchange experiences with the Casa Gallina orchard community and shared recipes from their region at a dinner for neighbors. They held a sale of their products over the weekend in the Communal Shop. In addition to the exchange, this experience served to outline possible future collaborations between CCPO, Kolijke and Casa Gallina.
Laboratory Of Map-Story Prototypes
Date: March–July, 2022
Mediators: David Hernández, José Guerrero and Rafael Rentería
Illustrators: Daniela Martínez, Daniel Chepe, Enrique Sañudo, Mariana Aranda, Juan Palomino, Amanda Mijangos and Armando Fonseca.
Allies: Bachillerato Comunitario Ikoots, Uyool Ché A.C, Mujeres, Organización y Territorios A.C. MOOTS, Memoria Mazateca, Kolijke and Centro Comunitario Productivo de Ocomantla.
Participants: 12 participants from 5 organizations in 5 territories.
Casa Gallina received –on different dates over the course of three days– members of five organizations who participated in a laboratory-type collaborative format in which they created the prototype of a map story of each of their territories. These maps were articulated based on evidence, testimonials and documentations collected in work processes with their communities as part of Training of Organizations and Community Agents to use and Activate Collective Mapping program.
The collaborative work continued at a distance as a dialogue between organizations and illustrators to develop the prototype created in the laboratory:
-Herminio Gijón and Carla Martínez from Bachillerato Comunitario Ikoots created a map on environmental resources and adolescents learning language in San Mateo del Mar, state of Oaxaca, illustrated by Enrique Sañudo.
-Luis Chuc and María Antonieta Bocanegra from Uyool Ché A.C. developed a map illustrated by Daniel Chepe on the diversity of native maize in the cosmovision of Maya maize-growers in Felipe Carrillo Puerto, state of Quintana Roo.
-Claudia Velásquez and Alejandra De Velasco from Mujeres, Organización y Territorios A.C. MOOTS created a map on the support networks and notions of body-territory-life among women in Tenosique, state of Tabasco, illustrated by Daniela Martínez.
-Emilio Fernández and Rafael Rentería from Memoria Mazateca proposed a map on mutual support in the Mazateca culture within the community of children and teachers in Huautla de Jiménez, Oaxaca, illustrated by Mariana Aranda.
-Santiago Concheiro, Aracely González and Maru Gutiérrez developed a map on the training and learning processes among promoters from the Centro Comunitario Productivo de Ocomantla, in the state en Puebla, illustrated by Juan Palomino, Amanda Mijangos and Armando Fonseca.
The efforts invested in these laboratories will culminate in the publication of these story maps in an editorial project compiling the experiences of 13 organizations in various territories while using the collective mapping tools Casa Gallina shared through its publication Constellations: Manual of Tools for Collective Mapping.
We Make Our River
. Activations in the Papaloapan River Basin
Date: June 18–24, 2022
Facilitators: Adolfo Córdova, Dolores Medel, Enero & Abril, Cuauhtémoc Wetzka, Catalina Pérez and Cecilia Pompa.
Participants: 615 inhabitants of Veracruz, Tlacojalpan, Cosamaloapan, Chacaltianguis and Tlacotalpan.
Allies: Reflexionario Mocambo, Instituto Veracruzano de la Cultura, Promoción del libro y la lectura; Complejo Cultural Casa de las Mariposas, Tlacojalpan, Veracruz (Regional museum and House of Culture); Municipal Library Professor Pedro Martínez Dávalos in Tlacojalpan, Veracruz; Ateneo Cosamaloapeño; Municipal Library Miguel Alemán Valdez, housed in the Aurora Ferat House of Culture in Zamacona; Municipal Library Dr. Mauro Loyo Díaz, Chacaltianguis; Mano amiga productiva; Foro Luz de noche and House of Culture of Sotavento, IVEC, Tlacotalpan.
Format: in-person
The creative team who published We Make Our River carried out activities along the Papaloapan river basin, in the state of Veracruz. The author Adolfo Córdova, the photographers Dolores Medel, Enero & Abril, the illustrator Cuauhtémoc Wetzka, the editor Catalina Pérez and the mediator Cecilia Pompa worked with girls and boys in different riverside locations along the Papaloapan river basin. Several reading promoters, professors and teachers also received copies they will activate with their communities.
We Make Our River
. Activation Workshop for Teachers of
Semilleros creativos
Date: June 4, 5 and 26, 2022
Facilitator: Cecilia Pompa
Participants: 9 teachers from Semilleros creativos de Veracruz
Format: virtual
A workshop was held as part of the activities for the publication We Make Our River, to activate teachers from Semilleros creativos in the state of Veracruz. These educational centers are located in Zongolica, Tequila, Ciudad Mendoza, Banderilla, Coatepec, Tlacotalpan, Cosoleacaque and Oteapan. The teachers received the book and developed educational projects with their groups.
Visit to San Jerónimo Tulijá
Date: May 2022
Facilitator: Rodrigo Simancas y Cecilia Pompa
Ally: Ixim A.C.
Participants: 21 promoters from San Jerónimo Tulijá
Format: in-person
A visit was paid to the community of San Jerónimo Tulijá, located in the municipality of Chiló, state of Chiapas, in collaboration with Ixim A.C, to carry out a participatory diagnosis to design a program of didactic environmental material for children. Casa Gallina´s bilingual Tsetsal-Spanish book, Interconnections, was key material for the diagnostic sessions. The mobile fun library resulting from this process is an adaptation of the Earth Nook, designed jointly with Ixim to respond to its context, everyday life and way of working in San Jerónimo and nearby communities.


Presentation of the book Constellations, Manual of Tools for Collective Mapping
Date: 13th of May, 2021
Presented by: Jorge García (Kolijke), Rubí Huerta. Moderator: Josefa Ortega
Participants: 54 members of collectives, organizations and independent agents
Format: Online
This presentation was aimed at general members of organizations and allied community actors, to acquaint them with the publication Constellations, Manual of Tools for Collective Mapping, which is an open tool that supports the recognition and social visualization of a territory's elements. The publication's circulation increased in different parts of the country following this presentation, due to the keen interest shown by participants.
Constellations: Forming Organizations and Community Agents to Use and Activate Collective Mapping
Date: July-December 2021
Facilitators: Iconoclasistas (Julia Risler and Pablo Ares), José Guerrero and the Casa Gallina team
Participants: 20 members of 9 guest organizations and an independent agent: ADVC Kolijke: Asamblea de Defensores del Territorio Maya Múuch' Xíinbal; Ikoots Community Highschool; Enlace Comunicación y Capacitación A.C.; "Los Cobos" forest rangers; Masehual Siuamej Mosenyolchicauani; Memoria Mazateca; Mujeres Organización y Territorios A.C.; Uyool Che A.C. and Fernando Velázquez.
Regions: Cuetzalan, State of Puebla; Bosque de los Cobos, State of Aguascalientes; Ocomantla, State of Puebla, Amiltepec, State of Guerrero; San Cristóbal Amoltepec, State of Oaxaca; Huautla, State of Oaxaca; San Mateo del Mar, State of Oaxaca; Comitán, State of Chiapas; Chilón, State of Chiapas; Tenosique, State of Tabasco; Jamapa, State of Veracruz; Felipe Carrillo Puerto, State of Quintana Roo; Sinanché, State of Yucatán.
Format: mixed
This guidance program is designed for organizations, groups and community agents from various territories and aims at broaching tools for investigative and collaborative surveying based on the publication Constellations, Manual of Tools for Collective Mapping. Due to its open participation format, these dynamics help communities who activate them to highlight their knowledge, detect problems linked to a territory and enable their graphic visualization, striving to provide support in the agency, autonomy and governance of groups and communities. This program is designed to follow three work phases which include a formative stage, a preparation stage and one for implementation.
The formative stage of the program was developed between July and August 2021, when 21 members from 9 organizations in 9 states met with the Iconoclasistas (Julia Risler and Pablo Ares) to learn about the tools to activate collective mapping in their own communities. Throughout the sessions the group delved into the different possibilities and strengths of mapping as a tool for community work.
Knowledge and Flavors of the Maize Field: cooking workshops, discussions and visits
Date: May-September 2021
Coordinator: Angélica Palma
Facilitators: Silvia Olivos, Daniel Olivos, the Alarcón family, Carmen Rodriguez and Rosalba Rodríguez
Participants: 40 neighbors from Santa María la Ribera
Format: online
This program invites the Santa María la Ribera community to learn about the complexity that a maize field represents. Through various activities -cooking workshops, conversations, visits and tours through Milpa Alta- the system's elements and their cultural, symbolic, identity and biological significance are reviewed. The content of these activities focuses on the diverse uses of maize field species -such as maize, beans, Amaranthaceae herbs, Cucurbita squash, Maguey cactus, among others- in diet and medicine, as well as the ecosystem's spiritual relevance.