Re-viewing territories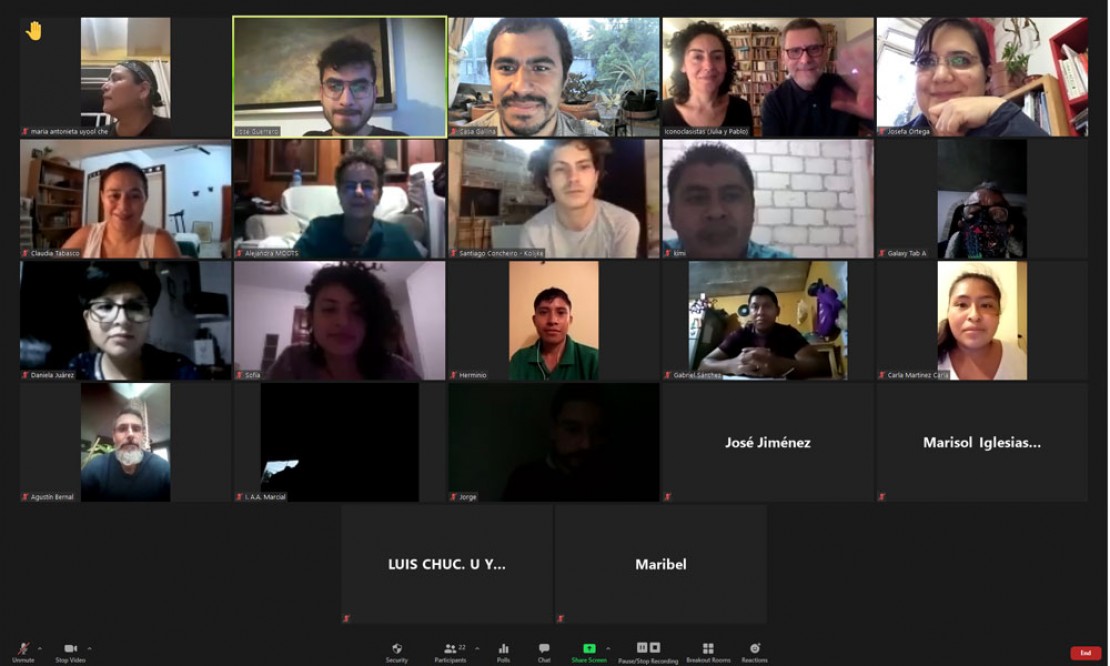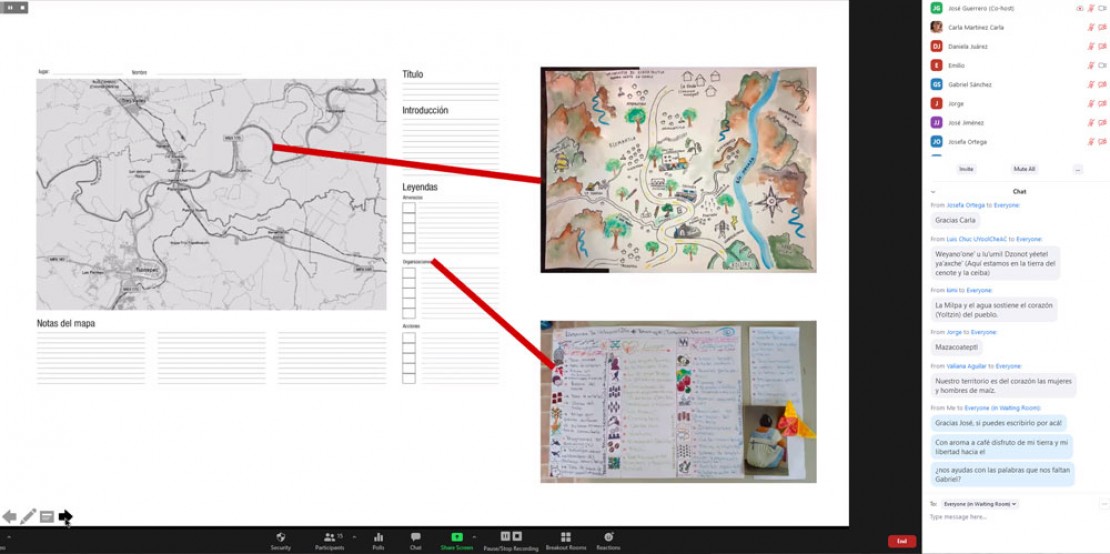 Since the first semester of 2021, Casa Gallina's program integrated a series of reflections and actions into its thematic strategies, which enables the rethinking of territories we inhabit, through re-learning their cultural and biological diversity.
The programs that comprise this strategy aim at fostering a link between various communities and the territories they call home, with approaches of exchange and recognition of local knowledge. Varied dialogue is furthered through different tools -such as collective mapping, tours, children's and cooking workshops- , in which each territory is reassessed based on the species that inhabit it, existing social interactions and the multiple relations between the ecosystems and the culture that characterize them. The strategy is built in alliance with organizations and community agents from various parts of the country.
Strategy implementation programs:
Presentation of the book Constellations, Manual of Tools for Collective Mapping
Date: 13th of May, 2021
Presented by: Jorge García (Kolijke), Rubí Huerta. Moderator: Josefa Ortega
Participants: 54 members of collectives, organizations and independent agents
Format: Online
This presentation was aimed at general members of organizations and allied community actors, to acquaint them with the publication Constellations, Manual of Tools for Collective Mapping, which is an open tool that supports the recognition and social visualization of a territory's elements. The publication's circulation increased in different parts of the country following this presentation, due to the keen interest shown by participants.
Constellations: Forming Organizations and Community Agents to Use and Activate Collective Mapping
Date: July-December 2021
Facilitators: Iconoclasistas (Julia Risler and Pablo Ares), José Guerrero and the Casa Gallina team
Participants: 20 members of 9 guest organizations and an independent agent: ADVC Kolijke: Asamblea de Defensores del Territorio Maya Múuch' Xíinbal; Ikoots Community Highschool; Enlace Comunicación y Capacitación A.C.; "Los Cobos" forest rangers; Masehual Siuamej Mosenyolchicauani; Memoria Mazateca; Mujeres Organización y Territorios A.C.; Uyool Che A.C. and Fernando Velázquez.
Regions: Cuetzalan, State of Puebla; Bosque de los Cobos, State of Aguascalientes; Ocomantla, State of Puebla, Amiltepec, State of Guerrero; San Cristóbal Amoltepec, State of Oaxaca; Huautla, State of Oaxaca; San Mateo del Mar, State of Oaxaca; Comitán, State of Chiapas; Chilón, State of Chiapas; Tenosique, State of Tabasco; Jamapa, State of Veracruz; Felipe Carrillo Puerto, State of Quintana Roo; Sinanché, State of Yucatán.
Format: mixed
This guidance program is designed for organizations, groups and community agents from various territories and aims at broaching tools for investigative and collaborative surveying based on the publication Constellations, Manual of Tools for Collective Mapping. Due to its open participation format, these dynamics help communities who activate them to highlight their knowledge, detect problems linked to a territory and enable their graphic visualization, striving to provide support in the agency, autonomy and governance of groups and communities. This program is designed to follow three work phases which include a formative stage, a preparation stage and one for implementation.
The formative stage of the program was developed between July and August 2021, when 21 members from 9 organizations in 9 states met with the Iconoclasistas (Julia Risler and Pablo Ares) to learn about the tools to activate collective mapping in their own communities. Throughout the sessions the group delved into the different possibilities and strengths of mapping as a tool for community work.
Knowledge and Flavors of the Maize Field: cooking workshops, discussions and visits
Date: May-September 2021
Coordinator: Angélica Palma
Facilitators: Silvia Olivos, Daniel Olivos, the Alarcón family, Carmen Rodriguez and Rosalba Rodríguez
Participants: 40 neighbors from Santa María la Ribera
Format: online
This program invites the Santa María la Ribera community to learn about the complexity that a maize field represents. Through various activities -cooking workshops, conversations, visits and tours through Milpa Alta- the system's elements and their cultural, symbolic, identity and biological significance are reviewed. The content of these activities focuses on the diverse uses of maize field species -such as maize, beans, Amaranthaceae herbs, Cucurbita squash, Maguey cactus, among others- in diet and medicine, as well as the ecosystem's spiritual relevance.