Producing and Recreating School: Models for Strengthening School Knowledge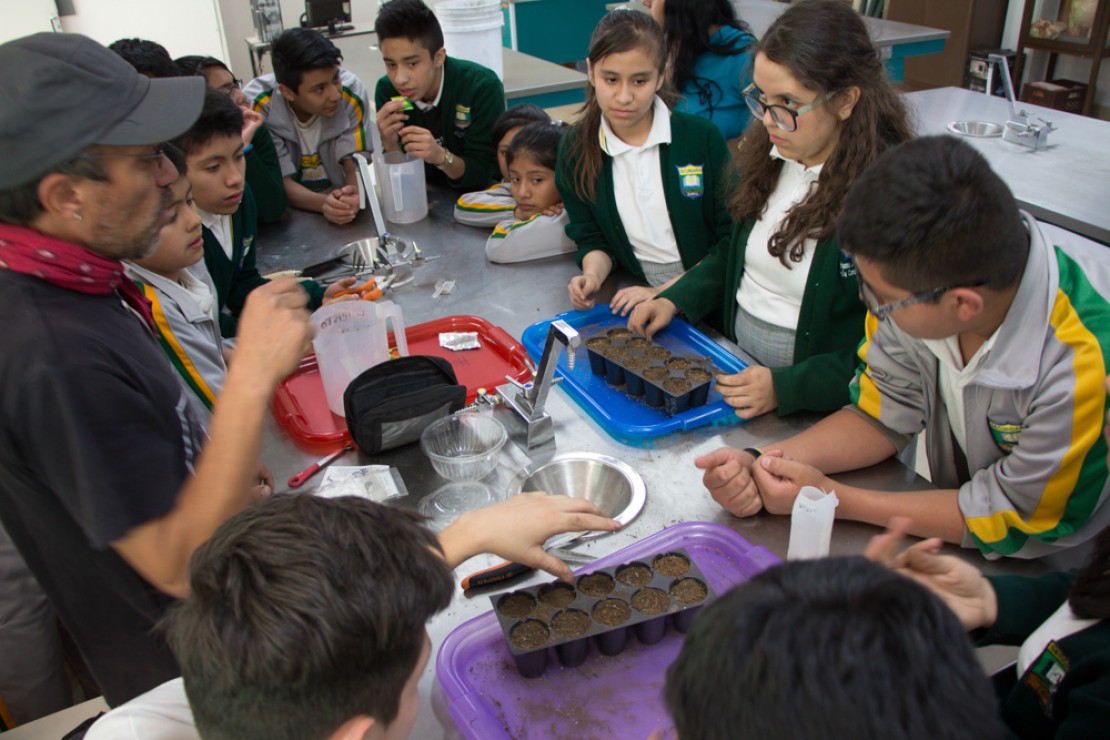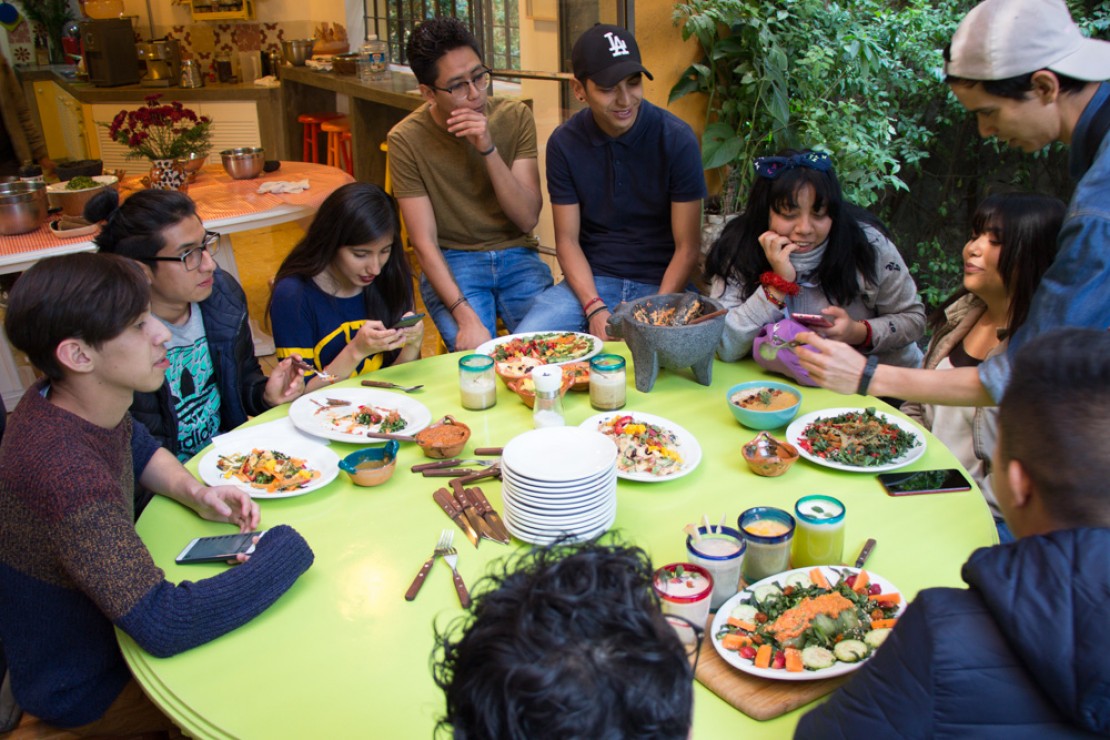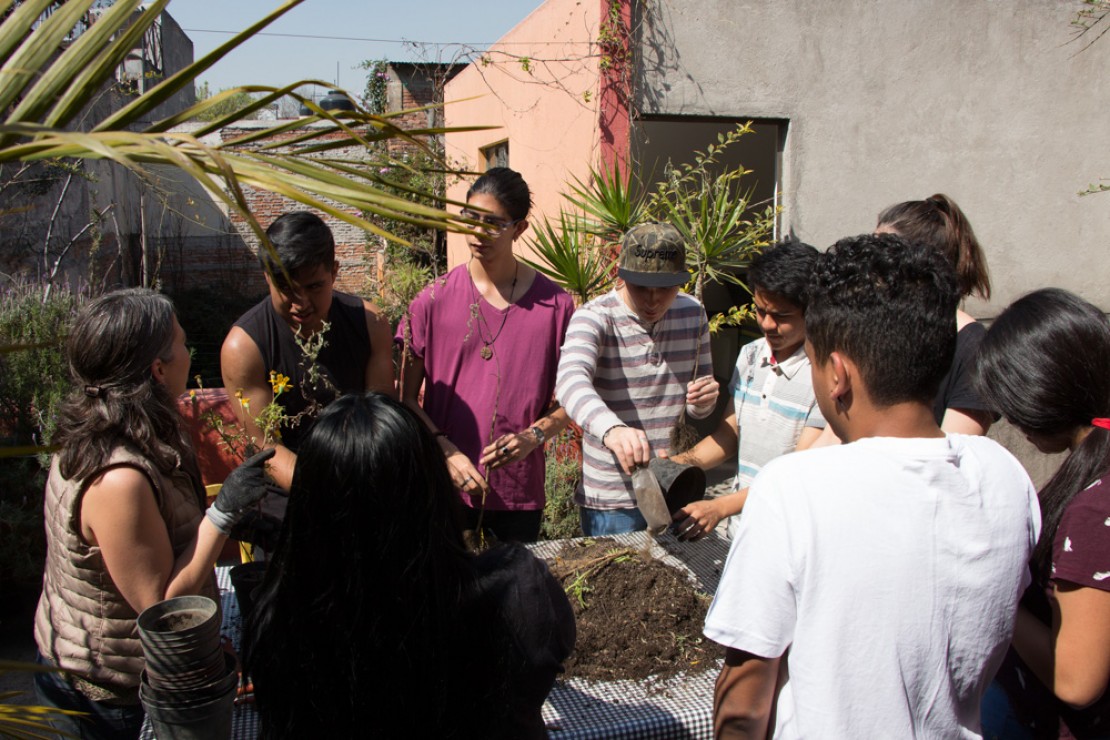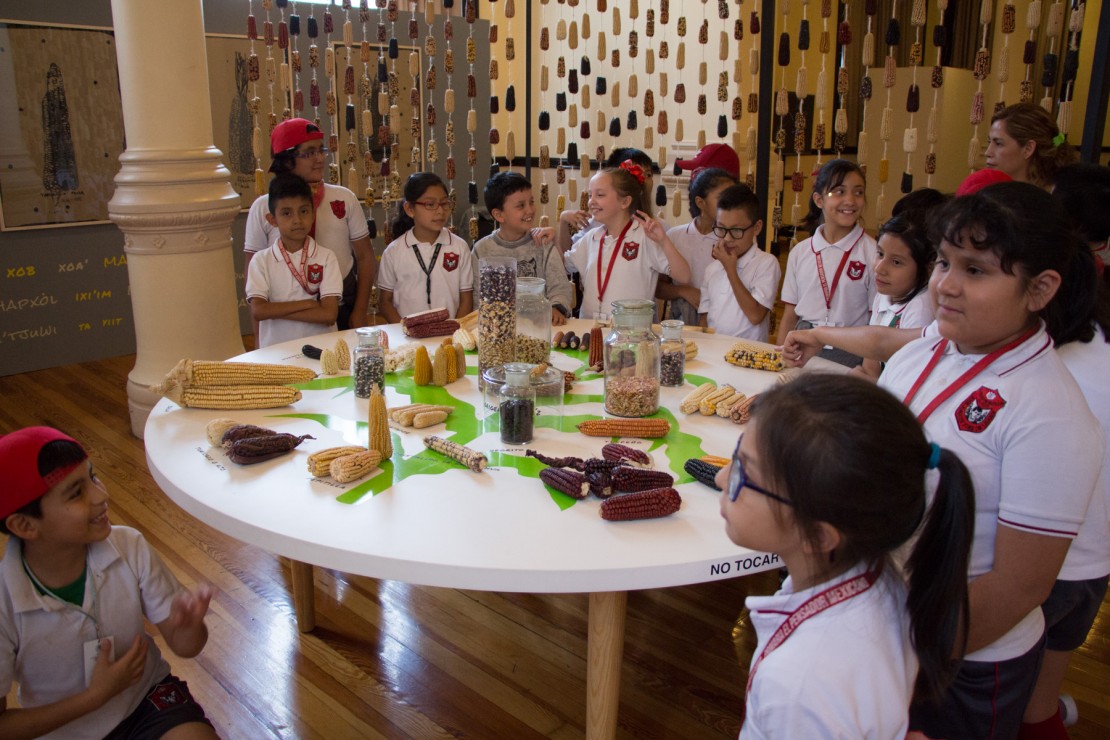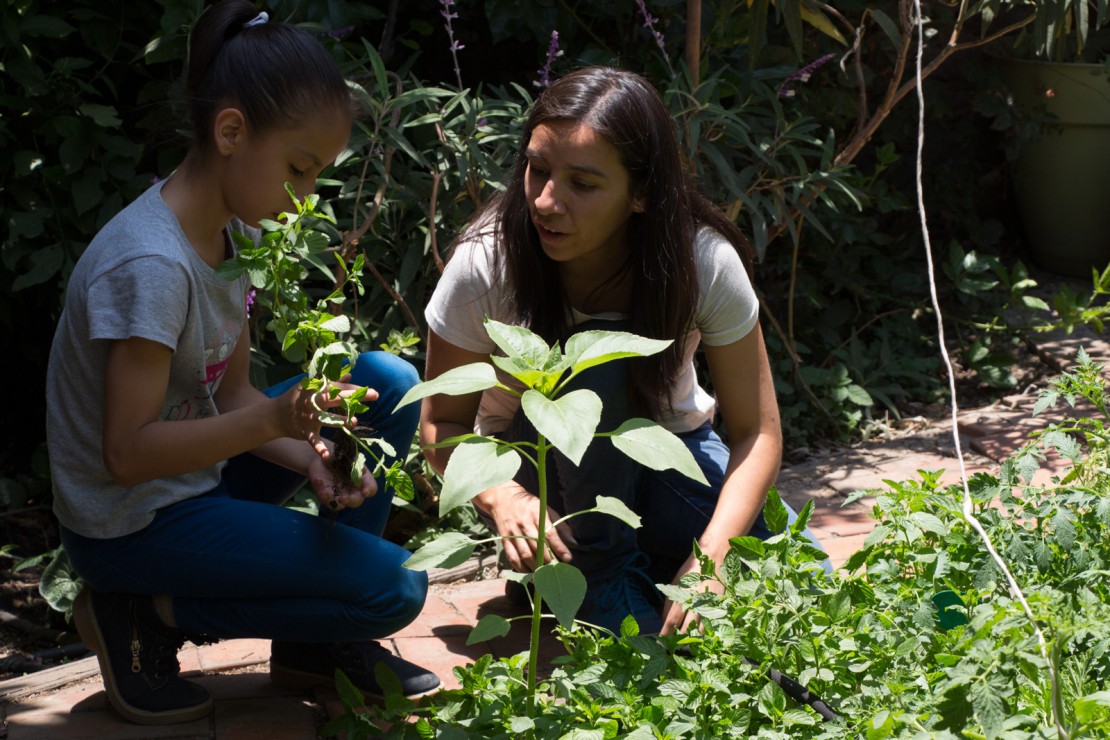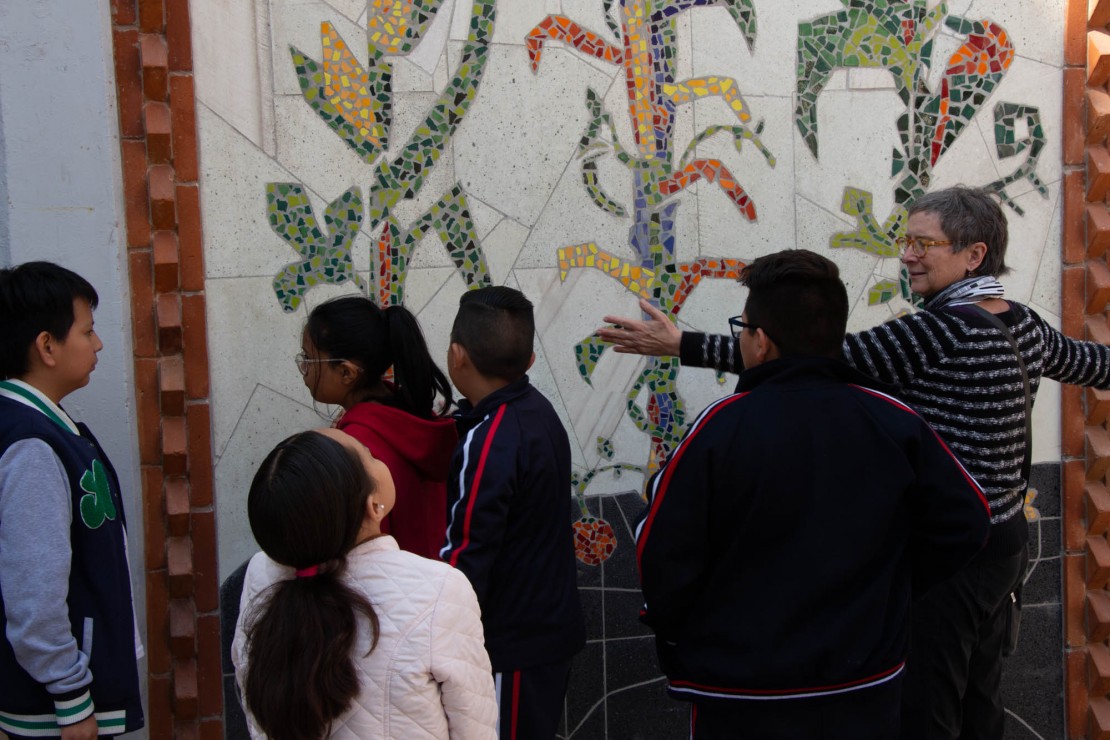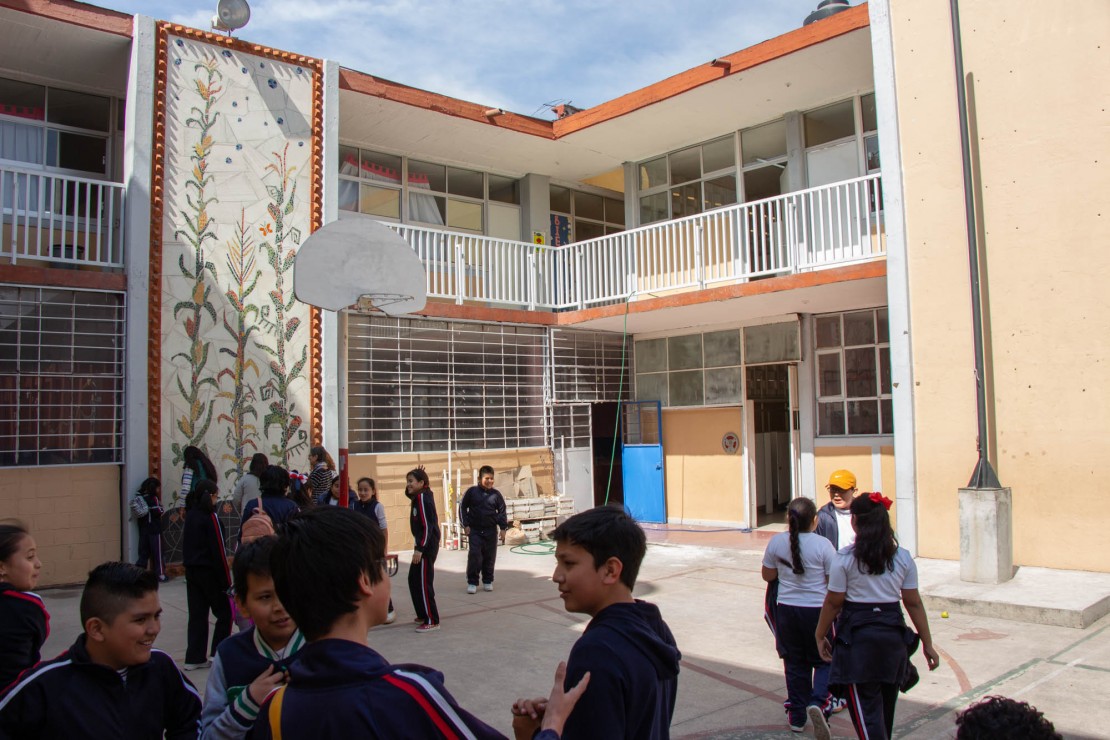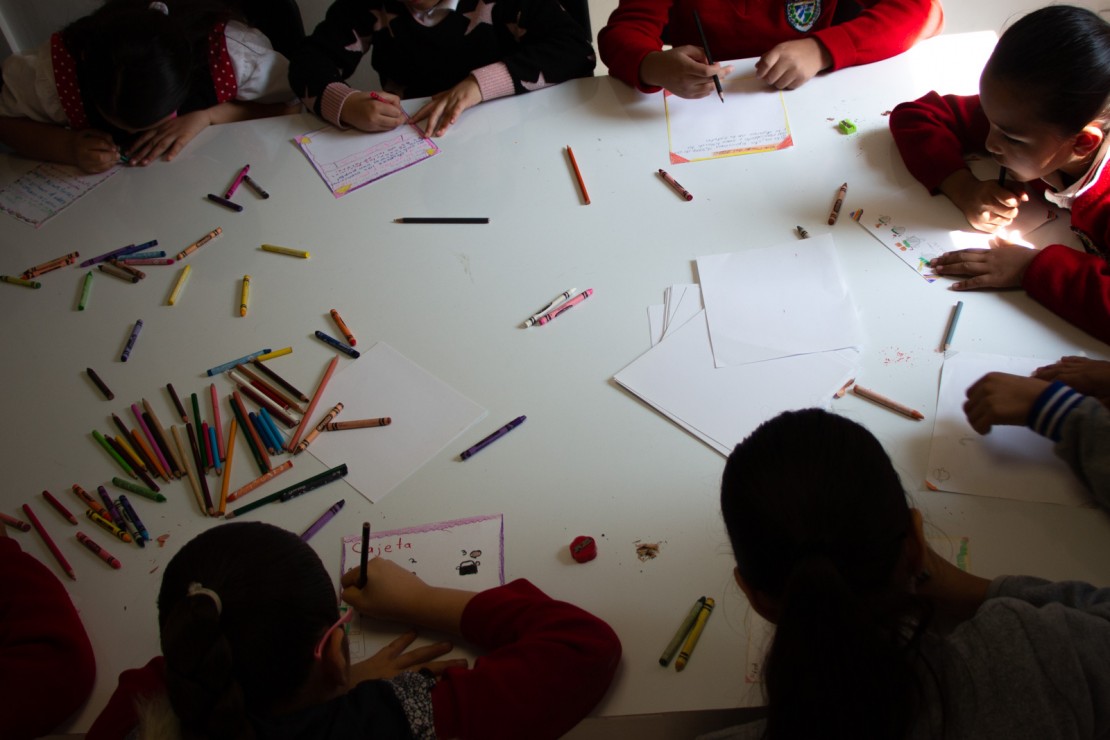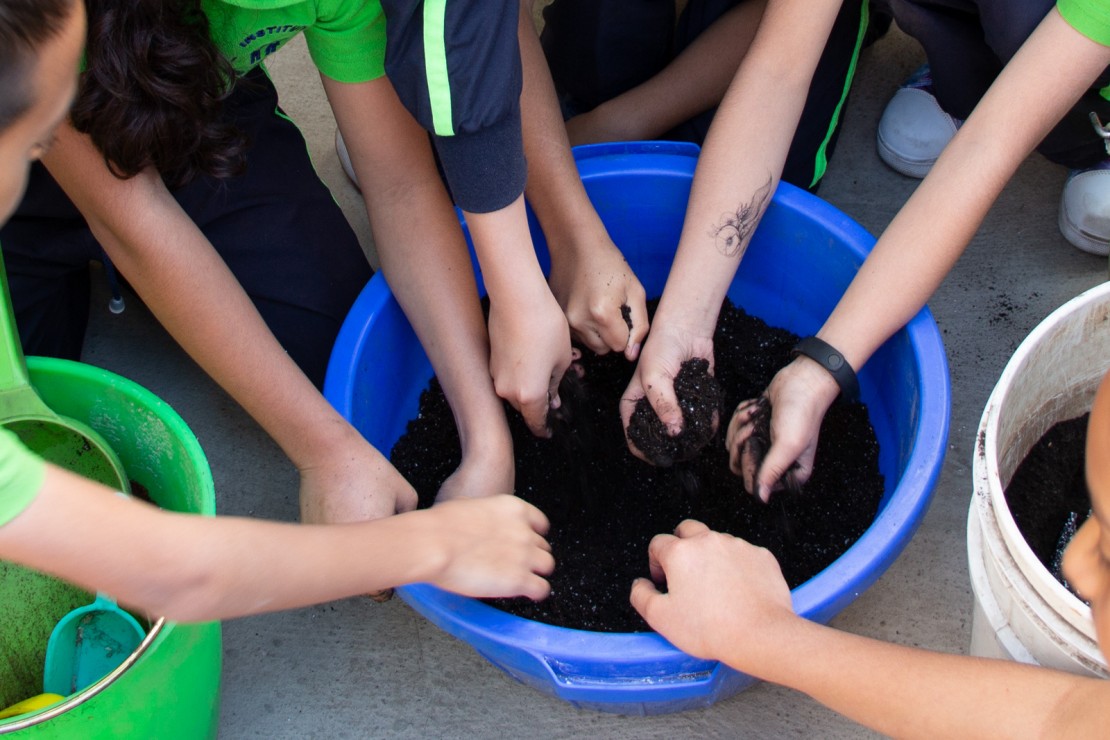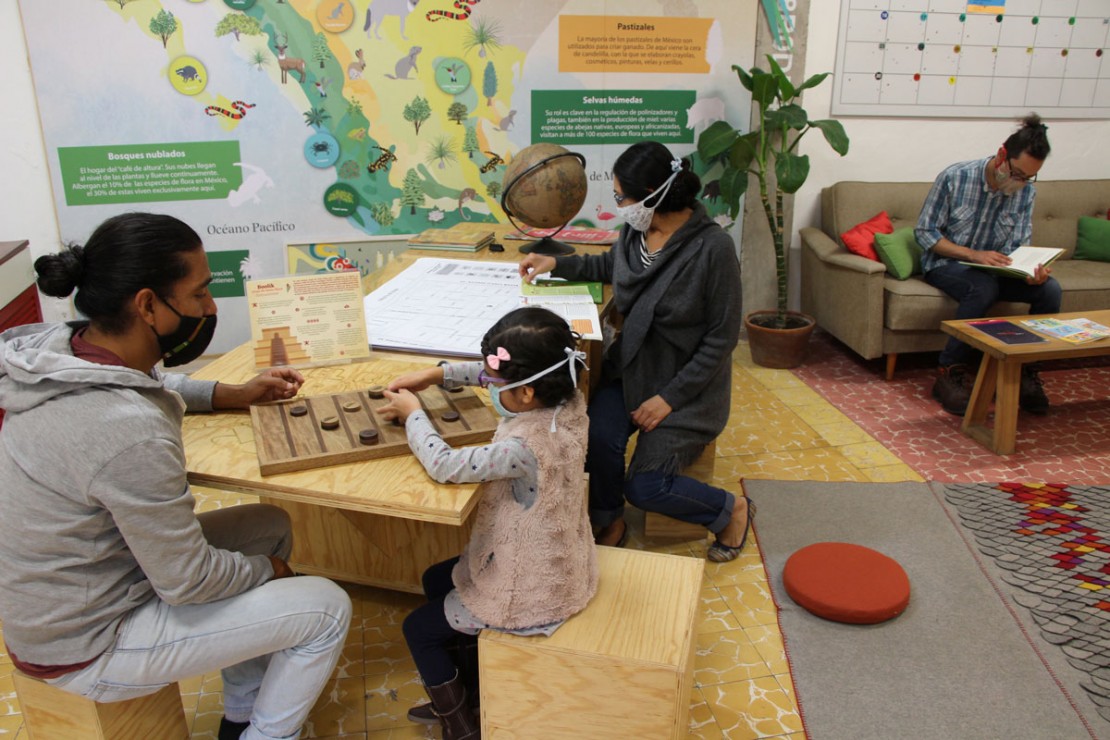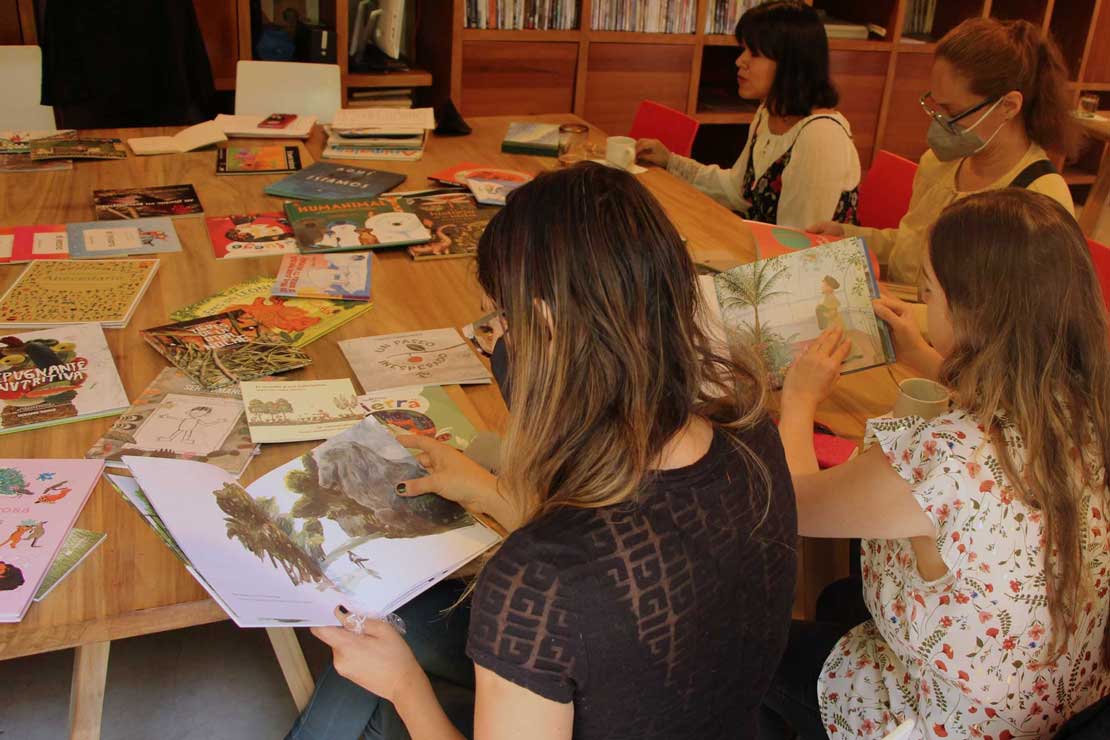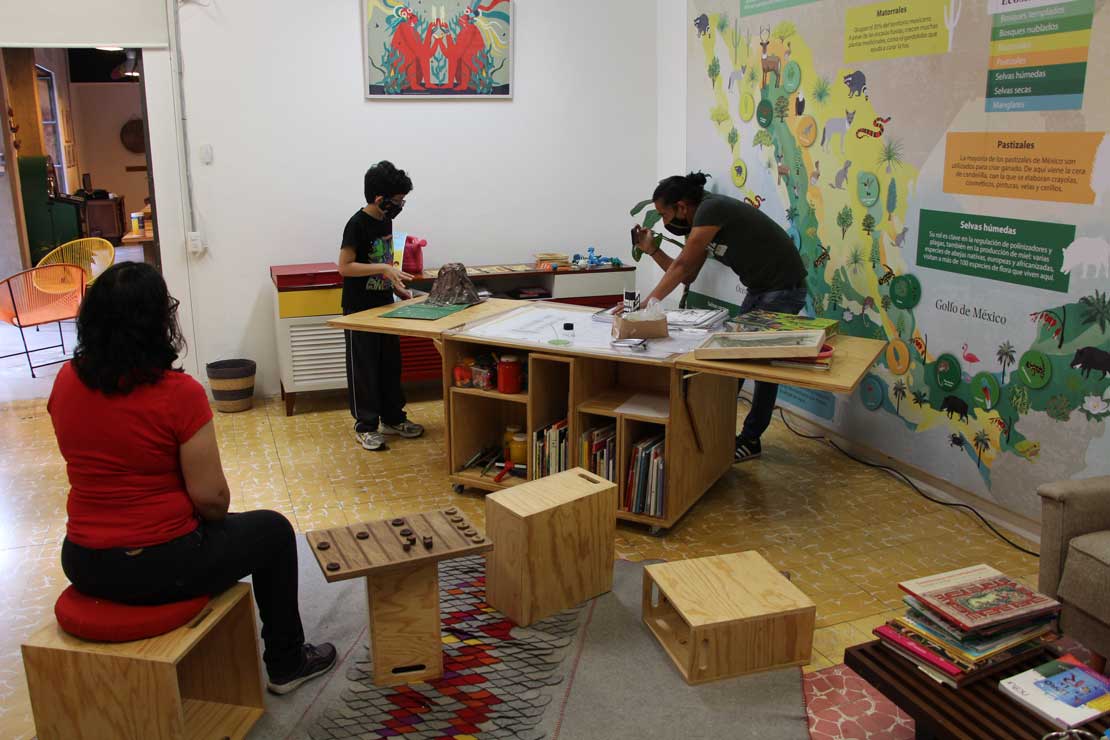 The open calls and projects that make up the work with the school community and residents of Santa María la Ribera seek to accommodate different ways of knowing, teaching methods, and open cosmovisions, which, because they are situated within the spectrum of knowledge and field experiences not recognized by official school curricula and are located outside of the school institution, are not considered valid in curricular terms.
This effort includes multiple formats that are constantly being experimented with and developed: summer courses for public school students; activities with educators related to the exhibitions produced by Casa Gallina in the Geology Museum; visits to Casa Gallina's garden as support for curricular subjects; agriculture and cooking workshops, and courses focused on reflecting about consumption; film projections and conversations in school premises; and the distribution of didactic materials among school communities.
Casa Gallina serves as a professional ally for the educational authorities in basic and upper secondary education in the community of Santa María la Ribera and is able to provide the necessary mediation with diverse neighborhood residents, associations, and professions in order to implement new content and activities that diversify what is learned within the schools. Conversely also, Casa Gallina corresponds to the interests of the neighborhood and allows different residents and civil associations to experiment with new forms of education that, rather than contravening the institution, traverse and recreate their fixed structures and pedagogies. This is the case of the other platform which was started recently: the prototype laboratory for educational initiatives developed by heterogeneous groups of neighbors and that are designed in the framework of the public school plan for curricular autonomy, and the creation of educational infrastructure for classrooms, in which neighborhood residents and other professionals are invited to design educational materials that support activities related to respecting the Earth and all living beings. These initiatives are recognizable as vehicles that renew and energize the connection between problems in contemporary social life and basic education, and promote the creation of subjects that are empathetic with the social and natural world.
Strategy implementation programs:
Earth Nook
Date: June-August 2021
Coordinator: Moisés Ledezma
Participants: 34 neighbors
Format: in-person
Activities began in Earth Nook, a space dedicated to girls and boys, coordinated by the teacher Moisés Ledezma, which offers a wide array of didactic tools related to environmental topics, ranging from childrens' books and didactic material to manuals for the implementation of learning dynamics. Currently, Earth Nook invites neighborhood girls and boys to turn their school assignments into a game and discover fantastic books. Furthermore, we are now working with teachers in neighborhood public schools, for them to incorporate the numerous resources at Earth Nook into their work in the coming months.




School visits to the Geology Museum: Maize, Biodiversity and Culture. An Approach Based on Everyday Consumption
Educational program: Cecilia Pompa and the mediators team of the Geology Museum
Dates: March – August, 2019
This exhibition presents a series of objects and information that enable reflection about the past and present socio-cultural processes and aspects of the current system of maize production. The school visits seek to use the exhibition to articulate a reflexive body that makes the issue resonate with students, their concerns and their everyday relation with maize through consumption.
The school visits to this exhibition allow new generations to delve into the complexity and cultural and gastronomical wealth of maize, as well as to recognize the importance of caring for this common good in society in general. At the same time, in collaboration with science teachers, the visits aim to help students understand the importance of ecosystemic equilibrium in human productive activities in relation to its scientific and humanistic aspects.
Agriculture Workshop for Teens
Dates: February – March, 2019
Facilitator: Lourdes Cruz Terán
Partner: Centro Cultural y de Capacitación Integral
Participants: 15 students from the CCCI
This workshop was conceived as a substitute for the subject of biology for students in the last year of a neighborhood school: Centro Cultural y de Capacitación Integral, and it was taught by neighbor Lourdes Cruz Terán, who is a biologist, and horticulturalist.
This activity enabled students and teachers to validate their concrete observations about the processes of the formation of life in a project that involved planting and caring for a garden in the winter. For this purpose, during one quarter, the school allocated the time that would have been used for this subject, for attending this activity. The workshop allowed school authorities to establish a curricular relation between education on the subject and observations in a concrete space.
School Gardens and Urban Agriculture Club
Dates: February – July, 2019
Facilitator: Dante Aguilar
Partner: Secondary School No. 46 José Vasconcelos
Participants: 30 students
A working relation has been started with the José Vasconcelos secondary school with the urban agriculture and school gardens club, taught by Dante Aguilar. The group of participants from the school has reactivated the practice of urban agriculture aroun a previously installed garden infrastructure.
This workshop works within the framework of club activities of the Secondary School and has allowed for the strengthening and maintaining of a garden that was on pause inside the school. The school lacked an educator and adequate work plans for the space and this has allowed educators specializing in agriculture to connect with students and take advantage of the infrastructure they have access to. The work program is carried out throughout the school year.
Garden Explorers, Open Visit to Casa Gallina's Garden
Collaborators: Valeria Ramírez and Dora Olivia Reyes
The Science professor, Dora Olivia Reyes, is responsible for the garden club in the Centro Cultural de la Ciudad de México Secondary School. As a complement to the garden activities, she periodically visits Casa Gallina's garden with her students to exchange advice, techniques, and methods with the horticulturalist Valeria Ramírez, responsible for the maintenance and open agriculture consultations at Casa Gallina.
Opening up Casa Gallina's garden as an open space where school activities take place enables the house to be constantly linked to the different schools in the locality. Direct work in a larger scale garden also allows the student to come into contact with processes of sowing, cultivating, and harvesting that are different from those developed in a school garden.
Making Preserves and Food Sustainability Workshop for Girls and Boys
Dates: January–March 2020
Coordinated by: Ariadna Monroy, Ixchel Aguilar and Juan Carlos Hidalgo
Participants: 23 neighbors
January–March 2020
Fourth grade students from the República de Cuba Elementary School—who had previously participated in the Nutrition with Mexican Ingredients Workshop—continued their experience at Casa Gallina by learning how to prepare different types of preserves, which served to exemplify knowledge on the states of aggregation of matter, which they study in science classes. They also participated in educational activities that addressed the notion of "environmental footprint" in relation to the production, distribution and storage of the food around them, as well as raising awareness of the environmental, social and health consequences associated with food waste and the processed food industry.
The workshop was planned and implemented by Ariadna Monroy, the group's teacher, working in conjunction with local chefs Ixchel Aguilar and Juan Carlos Hidalgo. The children produced sauces, milk caramel, snow cones and pickles to share with other students, teachers and family members at their school.
The Universe of the Urban Vegetable Garden
Dates: February–March 2020
Coordinated by: Dante Aguilar
Participants: 13 neighbors
A workshop facilitated by the horticulturist Dante Aguilar to the fifth-grade group from the Nueva Generación Institute, located in the Santa María la Ribera neighborhood, in which the students associated knowledge of biology and mathematics with the behavior of the elements that make up an community vegetable garden; they also learned the principles of permaculture in a practical way. On a second stage, this workshop aims to engage parents, teachers and other students in the creation of a school garden at the Institute.
This is the first workshop Casa Gallina implements with a private school in Santa María la Ribera, held under the agreement that, in exchange for it, the school will donate books for children that feature environmental education themes (previously selected by Casa Gallina). Said donation will contribute to the Earth Nook editorial collection, a mobile game library that will begin implementation the next school year, in a public school network within the neighborhood.
Training Program in Environmental Education for Teachers: Recreate the City
Dates: September 2021 - May 2022
Participants: 56 teachers from Hopelchen Campeche, Juchitán Oaxaca, Tlapa de Comonfort Guerrero, Milpa Alta and Santa María la Ribera.
Facilitated by: Cecilia Pompa
The boardgame Creating the City was the basis for the environmental education training program for teachers. It aims to offer the necessary knowledge, skills and experiences for teachers to extend their environmental concepts, abilities and values. It is structured on the premise that girls and boys are agents of change who can take decisions and actions in their everyday life to regenerate their surroundings.
It included a follow-up program to revise, adapt and evaluate the program's contents and pedagogical materials with teachers from different regions: Hopelchen Campeche, Juchitán Oaxaca, Tlapa Guerrero, Milpa Alta and Santa María la Ribera in Mexico City.
Explorers of Color
Date: October 2nd, 2021
Facilitated by: Rodrigo Flores
Participants: 37 neighbors
Format: In-person
Children under the age of 6 participated in the workshop "Explorers of Color" led by the illustrator and educator Rodrigo Flores, who showed them techniques that allow them to express themselves and exercise their psychomotor skills while associating their movements and games with animals and plants.
Activation of the Earth Nook in Republic of Cuba primary school
Dates: January - April 2022
Ariadna Monroy, a 3rd grade teacher in Republic of Cuba primary school, is the first custodian of a replica of the Earth Nook in her school; over three months she will incorporate Nook contents as a teaching aid and host complementary activities programed by Casa Gallina.
Network of Advocates of Reading and the Environment
Dates: January - November 2022
Facilitated by: Carola Diez
Participants: 12 advocates of reading
Format: Mixed
Carola Diez -neighbor, teacher and researcher of community processes to promote and disseminate reading- coordinates this project aimed at people with or without experience who are interested in activating processes to form readers linked to the environment in reading rooms, libraries, classrooms, neighborhood venues and public spaces. They will work for a year as a support and training network aimed at implementing and systematizing dynamics to activate a body of books on environmental topics, so as to stimulate opportunities to share material and discussion throughout the neighborhood.
The collection is currently being gathered according to the profile of participants.